Our Presenters
Youth Program Cincinnati, OH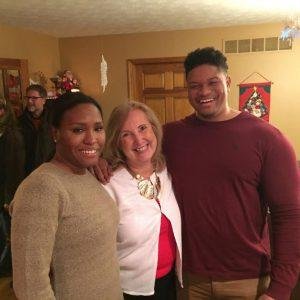 LaTonia Hanley is new to the Healthy Visions team and currently, serves as a Classroom Facilitator. LaTonia graduated from Middletown High School and Miami University. She is a compassionate and outgoing professional with over nine years of extensive experience as a Licensed Social Worker, Therapist, Case Manager and Advocate. LaTonia is committed to working with culturally and underserved populations and has practice working with youth who have experienced various forms of trauma. The certifications LaTonia holds are as a facilitator of evidence based TYRO Right of Passage, Choosing the Best, Veritas, CPR and First Aid. She currently is an active member of Lion of Judah Dance Ministry within Heirs Covenant Church. This past May, LaTonia was married to Brandon Hanley. When not speaking to youth, you may find LaTonia spending quality time with her identical twin sister LaTania Jackson, partaking in fine dining or intense exercise in the gym with Brandon, creative writing, creating a painting, salsa dancing or attending a training on one of many forms of dance. LaTonia's mission is to be a strong role model and positive agent of change in the community; one who has a due diligence to impart wisdom and care into our youth. A person who desires to empower, equip and edify so that youth can live vibrant lives and thrive on their own terms.
Adam Simmons, is currently in his second year with Healthy Visions as a Classroom Facilitator. He is a local to Cincinnati having graduated from Northwest High school and furthered his education at Cincinnati State Technical Community College. Focusing in Early Childhood Education, Adam found his passion for teaching increased and also continued in that direction as he lead multiple teenagers in church youth groups throughout the Cincinnati Area. He also has been a worship leader for those churches over the years (Church on Fire, City Church Cincinnati, Fairfield Church of the Nazarene, Red Door Church). These experiences have laid concrete foundations for a career with Healthy Visions. Adam is very driven to bring joy into every classroom and encounter. He understands the needs of the students and presents with passion and authenticity. Adam has certifications in VIRTUS, Choosing The Best, and Sexual Risk Avoidance Education (SRAE). He is always on the lookout for more stats, statistics, and studies to sharpen his educational tools to make a greater impact. Adam and his wife Olivia enjoy time at home with their dog Juniper, listening to vintage records, and playing board games. Adam loves playing as many instruments as possible and hanging out with his family and friends.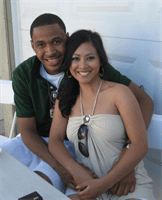 Landrá F. White II (Drá), is in his third year with Healthy Visions and second year as the organization's Program Director and Lead Classroom Facilitator, where he is both an educator and leader. A local of Cincinnati, Ohio attending high school at Purcell-Marian, Princeton, and Withrow then, college at Miami University, where he studied American-Studies and was active as a community leader on campus. The certifications Drá holds are as a facilitator of evidence-based TYRO Right of Passage, Mental-Health First Aid, Veritas, Sexual Risk Avoidance Education (SRAE), and Choosing the Best. He is dedicated to adding to this list during the summer months. Drá has a heart for personal development and a firm understanding of the social and emotional needs of young people in our world today. As a speaker, Drá is able to combine applied psychology, encouragement, and humor in a manner that connects, informs, and entertains the listeners, keeping them anticipating more. He currently resides in Norwood, Ohio with his wife Ellen, graduate of Miami University for Creative Writing, and their dog. Drá manages his time between students by reading, conversation, co-leading a small group of couples, and assisting his wife with her home-based business. Drá's vision is to empower young people across the country to know their value and to add value to others.
Nathan Miller is continuing his first year at Healthy Visions as a Classroom Facilitator. Nathan is a Cincinnati native who graduated from Lebanon High School before earning his Bachelor's at Miami University. While in college, Nathan became very involved in the Navigator's ministry, which sparked his passion to empower and equip others for good works with his communication skills in the non-profit world. Nathan lives in Clifton among close friends, becoming more involved in church and is looking to pursue other interests such as swing dancing and martial arts classes.